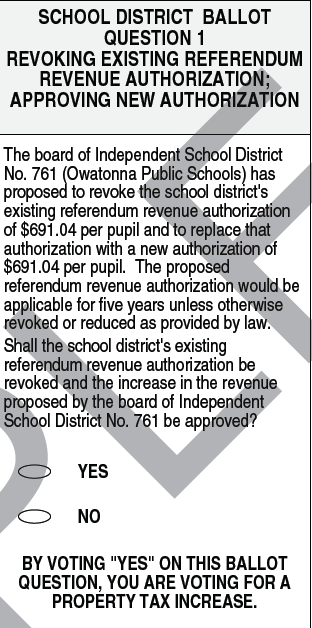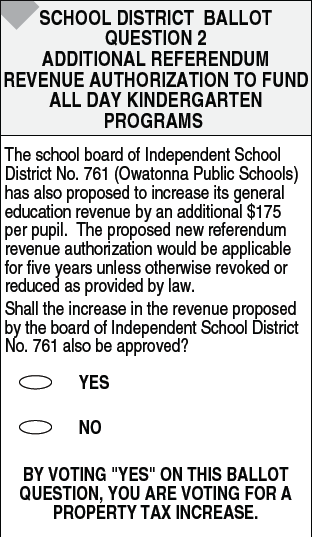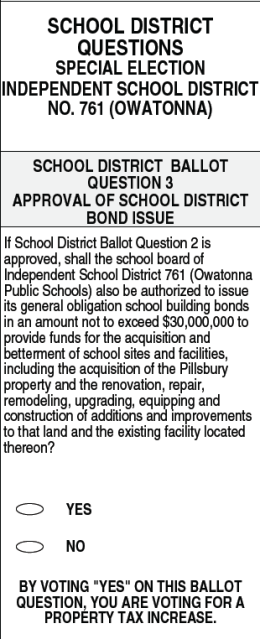 Pillsbury purchase price determined
Excerpt:
During a closed session on Monday, the school board unanimously approved a purchase amount of $4.876 million, pending the passage of the referendum questions on the November ballot.

Director of Operations and Finance Tom Sager said the tentative agreement also includes a period of 60 days, in which the district can continue site reviews and tests to validate previous inspections of the property.

Community members heard the announcement for the first time during a public forum held Tuesday night at Wilson Elementary School. The original asking price for the property was $6.9 million, and, according to the school district, the assessed value exceeded $7 million.

"That number we settled on was slightly below what we had projected on our budget," said Superintendent Tom Tapper.

The purchase price was not the only information that came forward during the forum on Tuesday, however. Representatives of the district also brought clarity to the dependence of one ballot question on another and the issue of financing in the district.

The first question, which asks voters to revoke the existing levy and replace it at the same amount for five years would extend the obligation for taxpayers through the 2015-16 school year.

The second question asks voters to approve funds for all-day kindergarten for a period of five years.

The third question covers the $30 million price tag for the purchase of the Pillsbury campus as well as the repair and renovation of the Pillsbury buildings which will not be demolished. Sager said under the current formula, this represents a 20-year obligation for the school district.

Sager said after five years of funding for all-day kindergarten, the district would have to ask for the levy to be renewed or make other allowances within the district budget. The school district is also hoping to see an up tick in funding formulas from the state government in that time frame.
Pillsbury Campus Purchase Agreement Negotiated With Owatonna School District; Voter Approval Required
Excerpt:
On October 25th a purchase agreement was successfully negotiated with the Owatonna School District. Their acquisition of the campus will allow the local high school and grade schools to expand their schools onto the campus from their current locations. The public must approve the district's purchase by a referendum on November 2nd. If they do, we will accomplish all the requirements in the purchase agreement and close on or before February 15. If they do not approve, the purchase agreement will be cancelled. Please pray the referendum will pass and the campus will be sold.

Dr. Robert J. Fuller, Jr., PBBC Board Chairman
Comment: Images from
the Steele County Sample Ballot
(PDF). Worth watching to see how this will go. Worth praying about it!