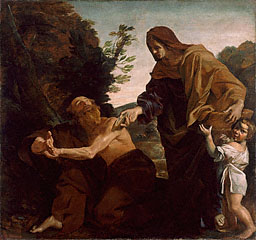 Elijah Receiving Bread from the Widow of Zarephath: Giovanni Lanfranco: Italian, Rome, 1621 - 1624
Why Did God Let that Brook Go Dry in the First Place?
Excerpt:
"Arise, go to Zarephath, which belongs to Sidon, and dwell there. See, I have commanded a widow there to provide for you" (1 Kings 17:9).

Why did God send Elijah to the home of a Gentile widow?

There's much in these circumstances that is surprising and unexpected ...
Read full article
Previous Article: The Drying Brook
Comments: Both articles ministered to me!